UK Removals to Crete, Door-to-Door Removals, Crete Removal back to the UK, Deliveries and Relocation
Crete is probably the most popular of all the Greek islands for complete relocation or a secondary holiday home. The largest of all Greek islands and being the most developed it has the biggest property market. It is one of my busiest destinations which could have 3 trips a month and on occasions has 2 vehicles on the island at the same time including the 7.5t truck.
So whichever of the 4 prefectures; - Heraklion, Chania, Lassithi or Rethymnon your property lies, getting your personal belongings door to door from the UK or anywhere in Europe. A removal back from Crete is very easy, using road transport delivery without the use of Containers.
Door to door in as little as 4-5 days in a Direct and Dedicated Vehicle!
No fuss, friendly, caring UK Greece Removal and Delivery with PMS Logistics.
Already have bookings for Summer 2021
Great rates for vehicle space from the UK!!
Half van space available to Crete early Spring 2021.
15m3 Vehicle going Crete Late Summer 2020 and half van still available for part loads - door to door.
2 vans on Crete this Sept and Oct 2020, Half price for goods back to the UK....!
HALF PRICE Removals back to the UK!
Want to know more? please fill in your details below:

With reference to our recent move from Devon to Crete. May we express our profound thanks and gratitude for the truly professional task you and your company carried out. From the initial contact through planning, loading and delivery every care was taken to ensure a smooth, trouble free and secure operation. Your driver Mike is a credit to you and your company, nothing was too much trouble for him, the care, diligence and attention to detail he showed was truly exemplary.
We would not hesitate in recommending the excellent service your company exhibits to all your future customers.
Best Regards
Richard & Wendy - Devon to Patsida, Crete

Elounda on a recent move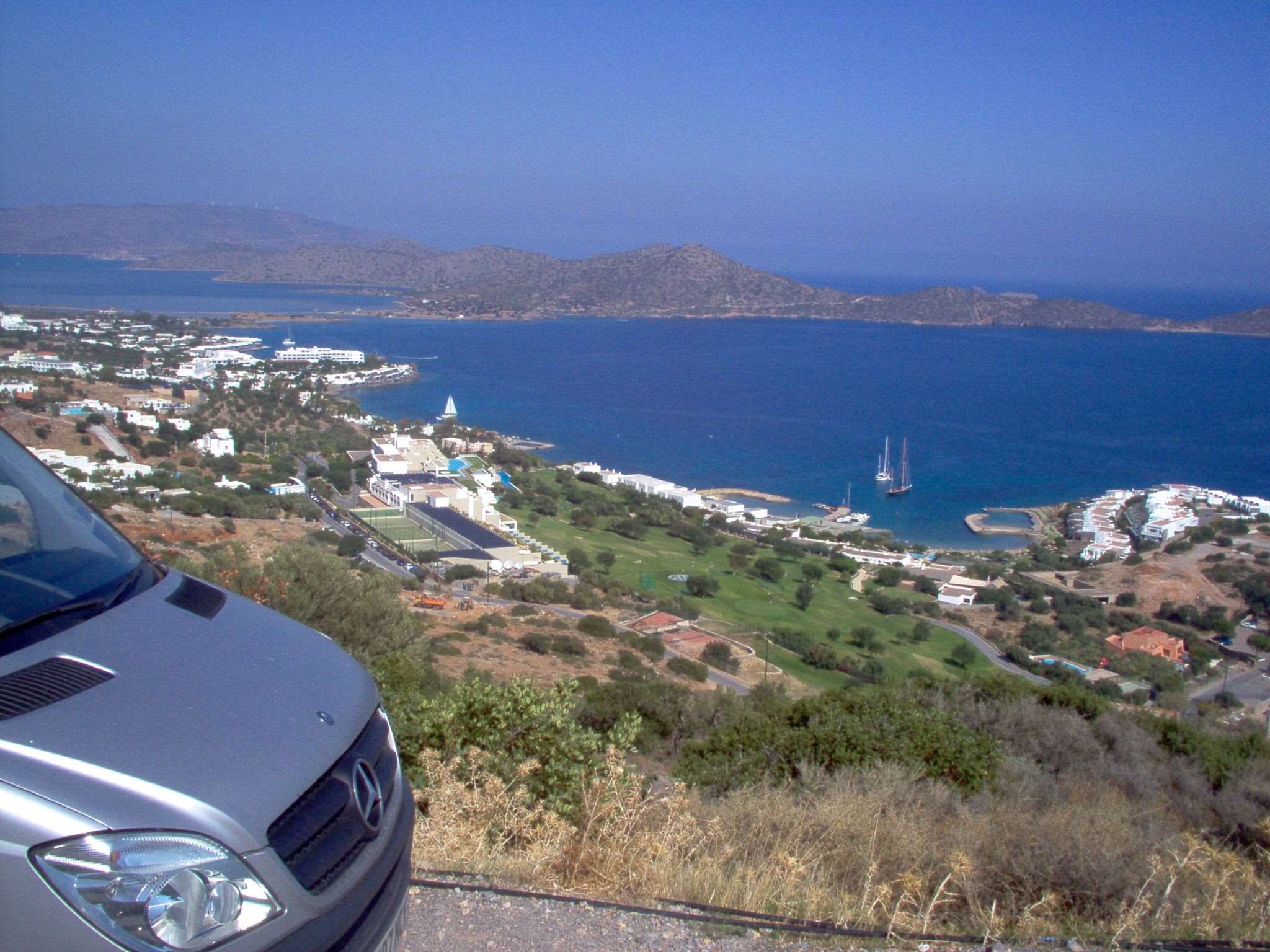 We would like to say a big thank you to Paul for our removal from East Yorkshire to Elounda, Crete. From our first enquiry with helpful information via phone and email, to pick up and delivery and keeping in contact during the journey to letting us know the arrival time in Elounda. All was unloaded quickly and efficiently even though we had a flight of stairs to the front door. We would recommend using this company for peace of mind as moving abroad could be traumatic but this certainly was not, thank you again Paul.
Karen & Lall - Hull > Crete 2011
Crete:
Heraklion: Its capital is the town of Heraklion, which is also the capital of the island. It is also the economical centre of the island. Located between the prefecture of Rethymnon and the one of Lassithi, the prefecture of Heraklion is full of wonderful beaches, interesting archaeological sites, amazing landscapes, picturesque villages and impressive gorges.
Chania: The prefecture of Chania or Hania is the westernmost of the four prefectures of the Greek Island of Crete. Its capital is the beautiful town of Chania where modern, Venetian, Turkish and traditional architecture are blended together in a perfect harmony, creating a unique and attractive picture.
Lassithi: The prefecture of Lassithi is the easternmost of the four prefectures of the Greek Island of Crete. Its capital is the lovely coastal little town of Agios Nikolaos which has a picturesque port where little fishing boats are mooring. Traditional Cretan way of life can still be seen, a verdant plateau (the Lassithi Plateau) full of old windmills and superb beaches.
Rethymnon: The prefecture of Rethymnon, lies between Chania and Heraklion. It is full of magnificent beaches, interesting archaeological sites and Byzantine churches, lovely villages, lively resorts and its capital, the town of Rethymnon, is a very attractive city which has kept many example of the sumptuous Venetian architecture.
www.a-house-on-crete.com - Villas and Houses for sale on Crete
www.nicamhellenic.com - Property Management Kalami, Chania
www.ktimatoemporiki.gr - Property for sale in Crete
More than 1000 properties for sale online updated daily from Crete leading estate agents.
Also Some Forums